On July 13, 2021, Fujitsu Computer Products of America, Inc., announced EdgeXperience Capture Service, an Imaging Solution as a Service (ISaaS) public cloud offering. It's designed to accelerate data-driven digital transformations and meet the challenges of today's distributed business environments.
EdgeXperience is built on PaperStream NX Manager, which FCPA introduced in 2018, as part of next-generation network scanning platform. With EdgeXperience, FCPA is now hosting NX Manager in the Azure cloud, which should allow businesses to drive operational efficiencies, reduce costs, and implement and scale scanning operations as needed with minimal disruption.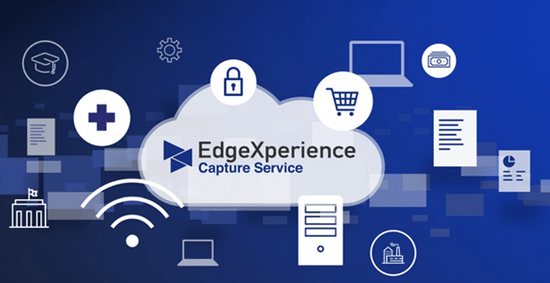 According to Fujitsu, the EdgeXperience Capture Service ISaaS platform provides all of the benefits of data capture that PaperStream NX Manager offers as an on-prem solution but in the cloud. Fujitsu also claims this is a first- in-the-industry subscription service model with month-to-month payments. This gives businesses the flexibility they need to scale up or down at a moment's notice. Additionally, the new service provides opportunities for further business optimization through the use of data analytics and insights. Thus, providing intelligent updates to IT management, even if they aren't in the office with the scanner.
Fujitsu's President and CEO, Daisuke Kutsuwada, stated, "As we looked at the future of digital transformation, our team was inspired to push beyond what's been offered before, creating a first-of-its-kind ISaaS solution that delivers a significant reduction in IT costs for businesses making the move to the cloud."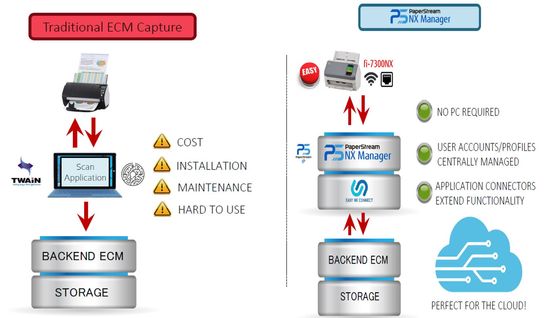 Kutsuwada continues, "EdgeXperience Capture Service presents a simplified offering designed for professionals who require high-performance scanner hardware, intuitive software, and cloud-based technologies that can ramp up quickly and work with on-premises, private, or public clouds."
The EdgeXperience service is available on a monthly payment option. It currently can only be run with the Fujitsu fi-7300NX document scanner, which can be leased separately. Fujitsu has created an initial set of Connectors from EdgeXperience to third-party systems, including one that enables users to connect with Microsoft Cognitive Services to apply recognition technology to their documents, one to SharePoint, and one to Azure blog storage, where documents and metadata can be picked up by other systems. There are plans to create more direct connections to third-party systems, similar to what is already available for the on-prem or private cloud based NX Manager.
All data is ecrypted when it travels between the scanner and the EdgeXperience cloud. For further security, the fi7300NX includes an NFC card reader for user authentication. An EdgeXperience subscription starts at $65.95 per month for up to 25,00 pages and up to five users. The solution is currently available only in the US.
Infosource Insights
Although this type of bundled offering is not new to the office MFP market, the document scanner segment has been slower to respond to this trend of subscription-based services. Additionally, as the move to cloud Capture services continues to accelerate, the timing of this announcement is good.
The pandemic has accelerated the adoption of office automation and workflow solutions, and Fujitsu's EdgeExperience Capture service is ideally suited for the SMB customer, requiring very little IT support up front, security, and ease of use. It is also great for enterprise customers, who are increasingly moving to distributed scanning to reduce costs and processing times. EdgeExperience provides them with centralized control and a simple avenue for a distributed rollout.
Thanks to the design for the fi-7300NX, which includes a USB port as well as wireless and Ethernet connections, customers don't have to choose and can jump to the cloud when they are ready. It was always a natural fit for Fujitsu to host the NX Manager themselves. We look for other scanner vendors to follow-suit either through leveraging their own proprietary technology to create cloud-scanning solutions or by leveraging the TWAIN Direct open standard.