The recently updated "LFP European Market Analysis" both in structure and content, is now available! This newly structured report examines both WEU and EEU Large Format markets, providing a comprehensive analysis of the European LFP market in 2022, the evolution and trends that took place in the last five years, as well as the trends that are expected to be seen in the coming years. In addition, it is enriched with useful information followed by graphical representations, related to ink technologies, media feeding types as well as market forecasts till the end of 2026fy according to Infosource, taking into consideration numerous interviews and discussions with manufacturers, vendors, and distributors.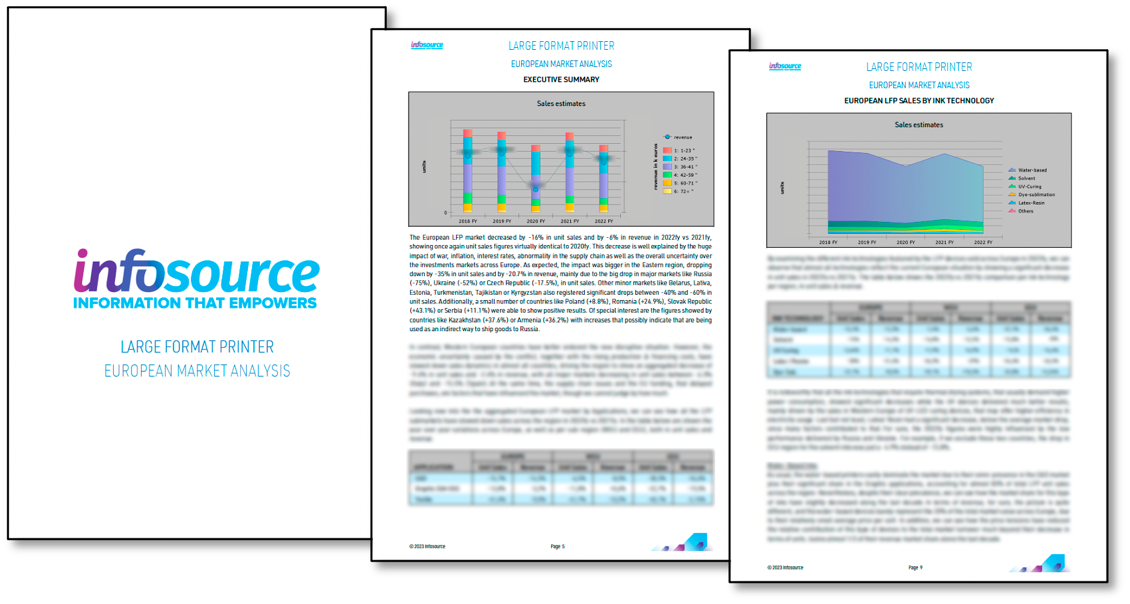 By accessing the European Large Format Printers report you will be able to plan, implement, and monitor product strategies that align with market trends.
LEARN:
Market size development and potential

Relative competitor market strengths and weaknesses

Production capacity loads and investments
PERFORM:
Realistic sales targets

Promotional results

New product development requirements
About the European Large Format Printers report and how to access it:
This report is based on statistics extracted from Infosource's database (isDB), as well as qualitative information collected throughout various interviews and discussions with all players in the market. For more information, please contact Infosource here.
__________________
The Infosource P&I Team
Eirini Louizou, Senior Analyst, Industrial Printing 
Rodrigo López Parte, Regional Manager