Under the direction of PFU Limited, all image scanners from the Fujistu brand will be rebranded to the Ricoh brand starting April 2023. Affected products include the fi Series, the SP Series, and the ScanSnap Series. This change will affect the brand that appears on the machines' screen-printed labels and the packaging logos, but the model names, specifications, and functions will remain the same as before. All products will be rebranded as Ricoh and be integrated into Ricoh's product and services portfolio, which also contains Ricoh's MFPs and printers, thereby providing substantial synergy to both PFU and Ricoh.
In 2022, Ricoh Company Ltd. acquired a majority of PFU Limited, with Fujitsu Limited maintaining 20% share of ownership. Moving forward, by adding the worldwide sales channels available to the Ricoh Group to the already existing channels of PFU, there are plans to extend the distribution of these scanners to even more customers. PFU Americas is being positioned as a sister company to Ricoh USA, which will remain a reseller of PFU manufactured scanners in pursuit of Ricoh Group vision for 2036. According to Ricoh's vision for 2036 "Fulfillment through Work", scanners are indispensable edge devices that facilitate digitization within the customers' workflow by serving as an entry point to digital services.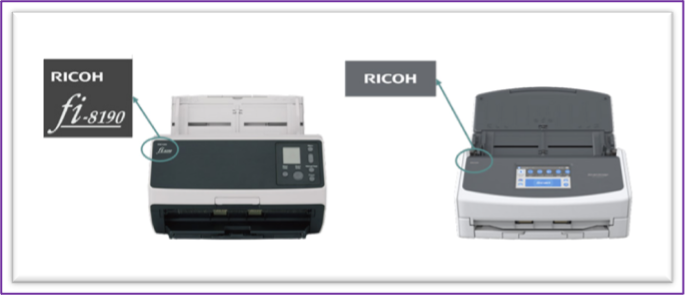 Ricoh's company strategy is to reduce its dependency on print related technology to solutions and services for workflow automation with a strong focus on consumption-based offers. This attracted Ricoh to Fujitsu's Capture portfolio which augments their MFP portfolio, complements their successful Docuware business, and expands their IT infrastructure and Enterprise services capabilities.
Fujitsu, who considered PFU as a cash cow to fund their growth strategy centered around digital services is pursuing a strategy focused on mid-to long-term opportunities. Declining profitability may have accelerated the resulting divestiture of the scanner business.  Fujitsu has had a long-standing leading market position in the global scanner market with a very broad portfolio of document scanners ranging from Personal to Mid Volume Production. Fujitsu's market position has been particularly strong in the Distributed Scanner segment's Departmental category (appx. <65 ppm, <3k USD), where it has a dominating share in all regions, but has been under increasing pressure from competitors.
Infosource Opinion
Japanese vendors are known for their long-term strategy. While the scanner business has not been Fujitsu's focus for the past many years, it served as cash cow for the company supporting investments into their digital growth areas. The declining profitability trend of the PFU subsidiary plus a recent drop in profitability of the parent company may have caused an acceleration of the strategy to divest from the hardware businesses.
Ricoh pursues a similar strategy to shift their focus from hardware to services and solutions with a focus on providing digital services that support the digital transformation of end customers. As mentioned previously, Ricoh's "Fulfillment through Work" strategy highlights scanners as an indispensable edge device that can further facilitate digitization within the customers workflow and serve as an entry point to digital services thus providing synergy for both PFU and Ricoh.
This blog post is an extract from our March 2023 Infosource Research Note on this announcement. If you are interested in purchasing the in the in-depth analysis please contact Ralph Gammon at [email protected] or Barbara Richards at [email protected] to discuss how the Infosource Scanner Hardware and Capture Services can help you grow your business.