Infosource's latest LFP (Large Format Printer) Digests are available for subscribers. Here's a quick overview of what you'll discover in the Digests (one focused on the Western European market, the other on Eastern European market) as well as how to acquire your own copy — or you can purchase both digests.
For the H1 2021, compared to the year ago period, both WEU and EEU LFP markets increased by 61.5% and 47.5% in unit sales, while in terms of revenue, they increased 42% and 47%, respectively. The outlook for the H2 2021 remains positive with an upward trend for both regions; expected to continue in the years to come.
The CAD market moved upwards, bouncing back to H1 2020 sales levels, with strength in CAD LF MFPs, as well as in higher-end models in terms of print-width and specifications.
As for the graphic and textile LFPs, WEU and EEU sales went up. Key factors and trends in this area are the shift to home décor, vehicle wrap, and the increasing demand from the apparel and textile markets across Europe. Additionally, increased transportation costs from China and other APAC countries, together with the delays in delivery times, are boosting local productions.

About the LFP Digest
Infsource's LFP digest reports, including graphs and our in-depth analysis, provide insights on the market size, development, and potential; aiming to help manufacturers and distributors realize the dynamics of the markets, and therefore establish realistic sales strategies and optimize production capacity loads and future investments.
These reports provide aggregated data and analysis for the following countries, per region:
WEU: Austria, Netherlands, Belgium, Norway, Denmark, Portugal, Finland, Spain, France, Sweden, Germany, Switzerland, Greece, Turkey, Ireland, United Kingdom, Italy
EEU: Armenia, Georgia, Russia, Azerbaijan, Hungary, Serbia, Belarus, Kazakhstan, Slovak Republic, Bosnia and Herzegovina, Kyrgyzstan, Slovenia, Bulgaria, Latvia, Tajikistan, Croatia, Lithuania, Turkmenistan, Czech Republic, Poland, Ukraine, Estonia, Romania, Uzbekistan
Here are all of the topics covered in the LFP Digests: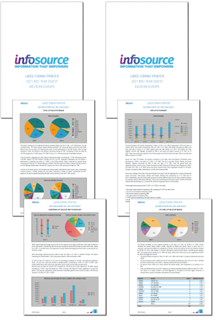 Executive Summary
Total LFP Sales by Application & Major Markets
Total LFP Sales by Brand
European LFP Sales by Ink technology
Graphic Arts LFP Sales by Brand
Solvent and Latex LFP Sales by Brand
UV Cure LFP Sales by Brand
60″+ Flatbed and Hybrid LFP Sales by Brand
CAD/Technical Sales by Brand
Commentary
Authors of this report are:
About Infosource
For over 30 years, we've been tracking market sales with unequalled precision, achieving industry recognition for our unique level of detailed accuracy and reliability. Our reports and services are based exclusively on data sourced during extensive field-research, conducted through regular face-to-face interviews by our team of locally-based researchers. We interview every major and most minor players in each country. The method is carefully designed to cover the total market, with no market segment or distribution channel excluded. We are thus able to provide data that allows clients to monitor the success of the various product categories and get unparalleled insight into the markets, with great accuracy and in a timely manner.