As it does every year, a new edition of FESPA EURASIA opened its doors in the Turkish city of Istanbul from 1st to 4th December. This year, around 100 different companies within the LFP Graphic and/or Textile market exhibited their products at the show and welcomed over 10,000 visitors.
According to the official published statistics, about 20% of those visitors came from foreign countries. Infosource, the EMEA market leader in market intelligence for the digital printing sector, attended the exhibition to meet all the major players and closely track the market evolution.
In this year's event, most of the international manufacturers were represented at the show by their respective local distributors. Mimaki was the single exception among large-scale international manufacturers. Since manufacturers prefer to reserve their new developments to be launched at larger events, such as the European FESPA, DRUPA, ITMA or the major North American trade fairs, most of all the other peripheral exhibitions are mainly focused on improving the different local markets sales dynamics rather than presenting new products or technologies.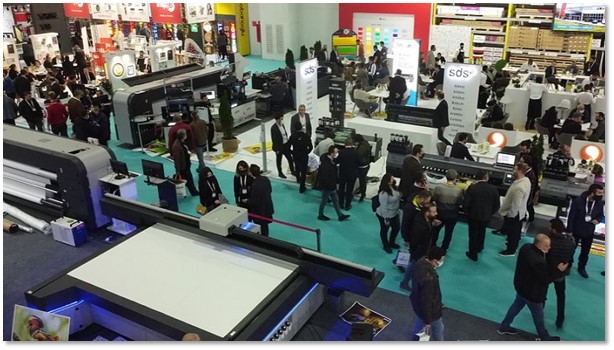 After meeting with a number of brands and distributors targeting different segments and with very varied product ranges, we have been able to identify some market trends and draw some clear conclusions on which there is a broad consensus regarding the Turkish market situation as well as the different products and technologies that are better serving the new market needs.
The Turkish Market Now
The current economic situation in Turkey, with very high inflation levels over 60% and with a Turkish Lira that in the last 4 years has depreciated by almost 70% against Euro, is seriously affecting the profitability of all those companies with import activity and slowing down the sales of imported equipment, due to its price increase.
This is particularly noticeable in the higher end of the market, both in graphic and textile applications. In terms of unit sales, we can see that the Turkish market has decreased from 2.2K units in 2014fy to 1K units in 2021fy (Graphic Arts + Soft Signage + Textile).
In addition to the economic uncertainty, the parliamentary and presidential elections scheduled for June 2023 are already affecting the sales dynamics in the country. Most of the professionals interviewed by Infosource forecast a moderate slowdown for the market, at least until the elections.
Who Is Succeeding in This Complicated Environment?
The main beneficiaries of the current situation in Turkey seem to be those brands that have opted for local manufacturing, either because they are domestic brands or because they have decided to set up manufacturing structures there (as some Asian brands have done).
On the other hand, distributors focused on the lower price segments, selling products manufactured in China, are also managing to maintain their sales targets and even continue growing. However, even in this type of product segment, a slowdown in growth is expected, so several local companies have started exporting activities, mainly in Eastern Europe and Northern Africa regions.
For the LFP Graphic segment, many of the professionals we spoke with pointed to a clear trend towards higher production devices. To compete in the current rising cost environment, print shops need to increase their productivity without increasing labor by shifting towards faster printers trying to minimize the TCO of the equipment. Once more, this trend is benefiting the Turkish and Asian manufactures which offer faster speeds at affordable prices.
As for the LFP industrial textile segment, in which Turkey is a major producer, the market continues to perform really low in unit sales, with installation figures far from their better historical numbers. For example, in 2014fy new installations reached 661 units while in 2021fy only 217 printers were placed.
As Infosource has detected, especially in recent months, this market has experienced a significant slowdown due to the reduction of production orders from large European textile groups. This situation is expected to continue for at least the first 4 to 6 months of 2023. From the technological point of view, the main ongoing trend in this segment is the quest for reducing production steps, costs, and environmental impact by avoiding pre and post treatments. Therefore, pigment systems are becoming more popular.
In conclusion, the LFP industry is currently being influenced by a number of factors that are affecting its sales dynamics. On one hand, for the Graphic arts market, the rising inflation, the increasing energy costs, the eruption of a big number of Asian brands with lower initial purchasing prices as well as the increase of digital advertising are slowing down LF printers sales in many regions and countries.
However, on the other hand, some segments like industrial textile printing are still far away from saturation, while huge production volumes are not yet digitalized. The future evolution and how fast this digitalization process will be adopted by conventional textile manufacturers will mainly depend on two factors: the productivity of the digital printing systems and the evolution of ink costs.
About Rodrigo López Parte
Rodrigo López Parte ([email protected]) has a more than 20 years background in marketing and sales responsibilities within various professional digital printing markets. Along his career, Rodrigo has had the opportunity to work in different market segments such as the industrial photo market, the graphic arts large format printing, the industrial ceramic and textile printing and the digital packaging finishing. From February 2021, Rodrigo joined the Infosource's team as market analyst and regional manager for Iberia and North Africa.