At the beginning of the year, I wrote out a list of predictions for 2022 and shared them on LinkedIn (and in Document Imaging Report). Here's my list again, plus more detailed thoughts on each prediction for the Intelligent Information Capture market:
The future of work is partly remote – Increased remote work is the new normal
The mix of business inputs accepted in case management solutions will increase
AI-based platforms will pivot
The subscription economy has reached the Capture market
Capture is increasingly moving to the cloud
Business analysts become the new solution architects – Capture will become a part of automation centers controlled by business analysts
Capture will continue to converge with RPA and BPM
The digital divide is widening – closing major deficits in digital transformation will drive Capture demand
1. The Future of Work Is Partly Remote – Increased Remote Work Is the New Normal
We chose to start with this prediction as it correlates with several other ones, like the shift of business inputs, cloud trends, and automation trends.
Granted, there were cyclical trends at least since the start of this century where remote work and onsite work locations for knowledge workers were favored at different times. When the pandemic hit, the pendulum was closer to the onsite campus scenario that was meant to foster creativity. During the first phase of the pandemic this turned to the other extreme and during the extended duration of the pandemic a hybrid scenario become most prominent, i.e., a partial work from home agreement. We expect this hybrid approach to be a key characteristic of the future of work, at least for the next, and hopefully final, phase of the pandemic and likely extending beyond.
Remote work of knowledge workers involved in business transactions increases the demand for Web-based and cloud-based Capture Software clients. This trend also impacts how end customers communicate and interact in B2B and B2C environments, which is increasingly digital and involves a diverse set of input channels and formats. That said, a significant number of transactional business inputs continue to arrive in paper form and need to be digitized before they can be processed, which presents a challenge in a home office environment.
Infosource analysts track both Capture Software and Capture Hardware devices. The analysis of shipments of Document Scanners and Multi-Functional Peripherals reveals a shift towards lower end devices due to increased demand from home office workers since the start of the pandemic.
MFP vendors saw a strong demand for Personal and SOHO A4 MFPs in the past two years. The graph below highlights the increase of global shipments of Personal and Workgroup scanners since the beginning of the pandemic. The Infosource analyst team expects the demand for these devices to remain at a high level in 2022.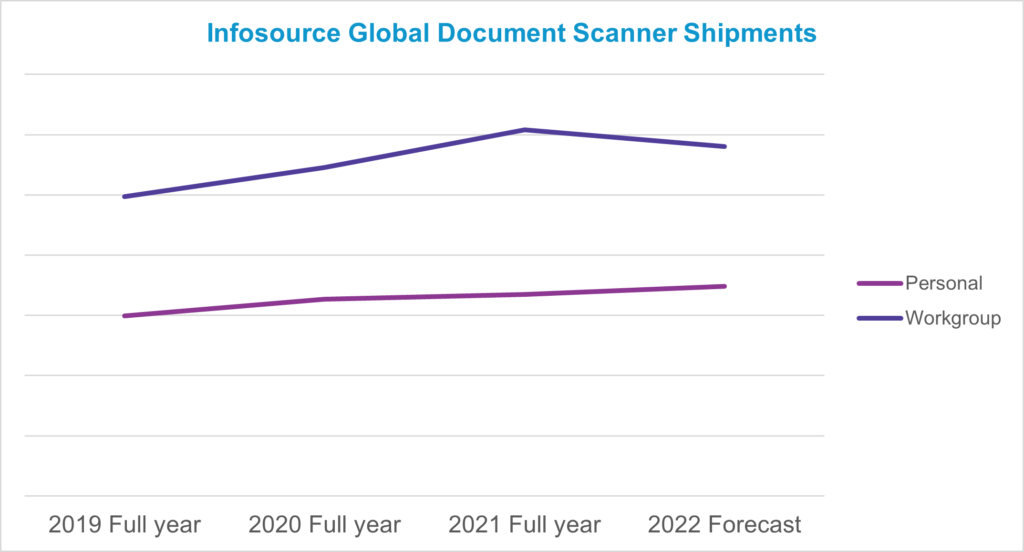 2. The Mix of Business Inputs Accepted in Case Management Solutions Will Increase
This trend builds on our first prediction related to the future of work. Knowledge workers involved in business transactions need to be enabled to process inputs remotely, which involves capture devices optimized for home office work but also mobile apps for process management as well as for Capture.
The other critical aspect is the way in which end customers (consumers and business customers) interact with their business partners. Even before the pandemic, business interactions were gradually shifting from face-to-face to virtual and business inputs were shifting to digital. This trend is multi- faceted. Preferences for interactions vary widely, with younger generations typically preferring digital or virtual interactions. In the Finance sector, this drives the demand for online banking, Neobanks,and even Fintechs.
The other market dynamic is the shift to communicating via multiple input channels using a wide range of formats often related to the same "case." For example, when submitting an insurance claim for a damaged item, inputs will be provided through a variety of channels including eforms, fax, scanned documents, voice, or video.
In future we expect an even higher level of digital inputs. The increasingly diversified input channels seen since the start of the COVID-19 pandemic will continue as the new baseline. In 2022, we expect digital inputs to business transactions to grow over 10%, while paper-based inputs will continue to decline.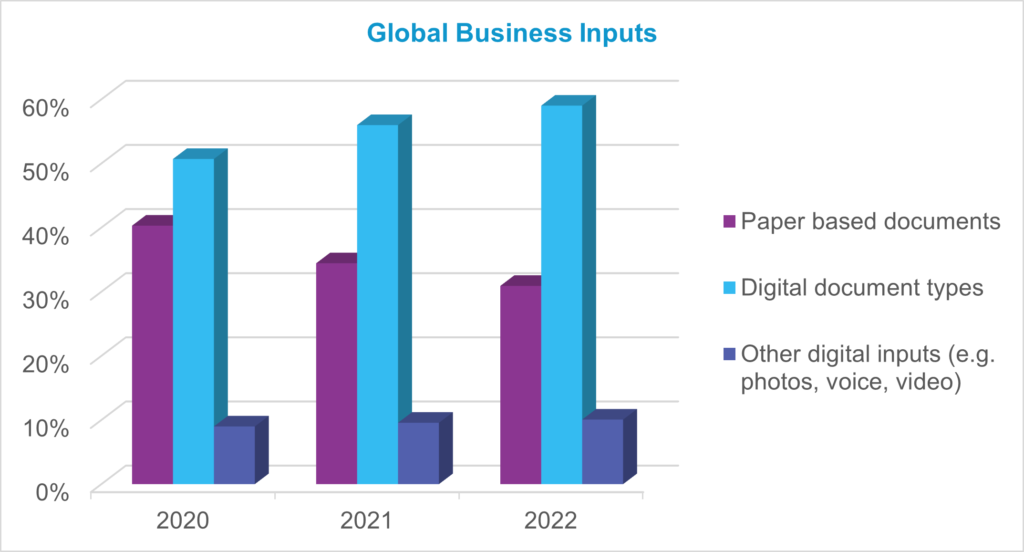 3. AI-based Platforms Will Pivot
Artificial Intelligence has many different facets that play key roles in the automation of business processes and in particular those that include unstructured inputs. Let's highlight a few:
Intelligent classification of business inputs addresses a key bottleneck for automated ingestion of transactional business inputs.
Machine learning or self-learning removes hurdles for new input types, exception processing, or changing business processes.
Sentiment analysis takes customer support to a whole different level
I would go as far as saying AI-based technologies have taken Information Capture and the automation of business processes to a completely different level.
On one end, they have become an essential capability for leading Capture vendors, who incorporate them with a broad range of technologies and deployments to solve specific business problems.
But there is also a new breed of Capture vendors, those that come with a core expertise in AI technology and found the ingestion of unstructured and semi-structured business inputs a prime target.
Many of these vendors have been able to demonstrate impressive results in the recognition and extraction of documents. They have been able to secure impressive amounts of VC funding and valuation levels that were unheard of in the Information Capture market.
We feel that 2022 will be a year that will determine for many of these AI-focused vendors, in particular the start-ups, whether they can scale and become profitable. Others may become acquisition targets for the larger vendors who seek to expand their technology portfolios, or they will have to shift to a different target market.
The 2022 Infosource Global Capture Vendor Matrix, our annual Capture vendor assessment, shows a couple of AI-based vendors in the "disruptor" category (highlighted in red). All three leaders in the "star" category also have key capabilities based on AI technology.
4. The Subscription Economy Has Reached the Capture Market
It started with cell phones, then the Internet, Netflix, car leases, and then it made its way into business, with cloud-hosted SaaS. Businesses soon discovered that in many cases a pay-as-you-go subscription, which could be accounted for as an operating expense, was more agreeable to their books than a capital expenditure on a perpetual software license that also typically included annual maintenance fees (subscriptions typically incorporate maintenance).
That is how we got to where we are today, where subscription-based Capture software licensing (hosted and on-prem or private cloud subscription-based Capture offers) account for more than a quarter of the Capture market in 2021— just slightly below perpetual license sales. In 2022, we expect subscription sales to surpass perpetual license sales for the first time. This may have a short-term negative effect on overall market revenue realization, but in the long run, it will make for a healthier, more highly valued market.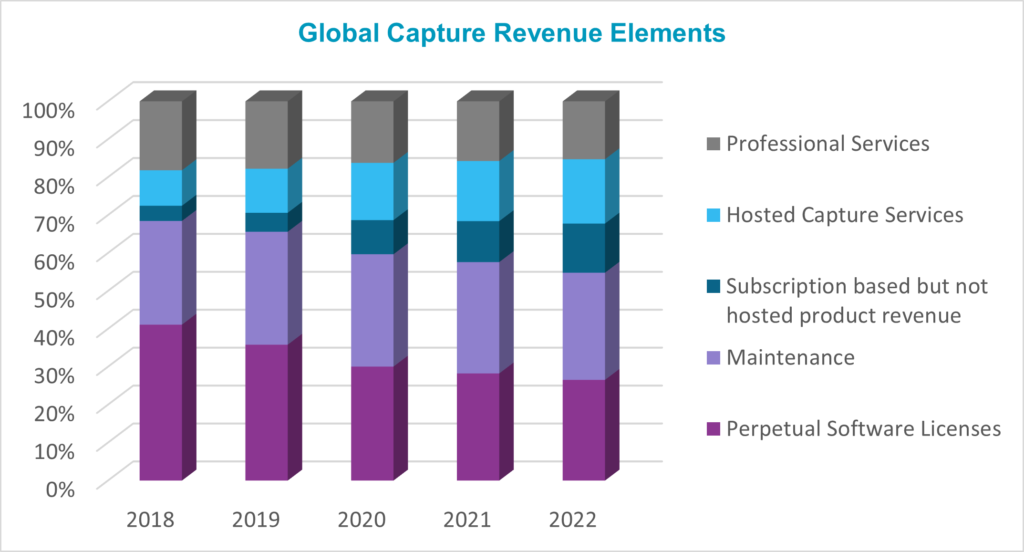 The transition to subscription sales is a trend in the overall software market, not just Capture. Unique to Capture is a higher percentage of on-premises subscription licensing than other markets. There are two reasons for this:
Financial Services make up about one fifth of the Capture market and many organizations in this vertical already have built large on premises IT infrastructures and have been reluctant to move applications to the cloud for security and potential performance issues
We expect a lot of the future growth of the Capture market to be driven by RPA solutions and historically RPA has been deployed primarily on-prem because of its need to connect to legacy systems
It's worth noting that both these factors are lessening as banks are looking more at SaaS deployments and RPA vendors are transitioning their customers to SaaS.
5. Capture Is Increasingly Moving to the Cloud
As recently as five years ago, Cloud Capture Services made up less than 7% of the global Capture Software market. By 2020, driven by a strong push caused by the pandemic, that percentage had more than doubled. We expect a continued growth in adoption, in 2022 and beyond.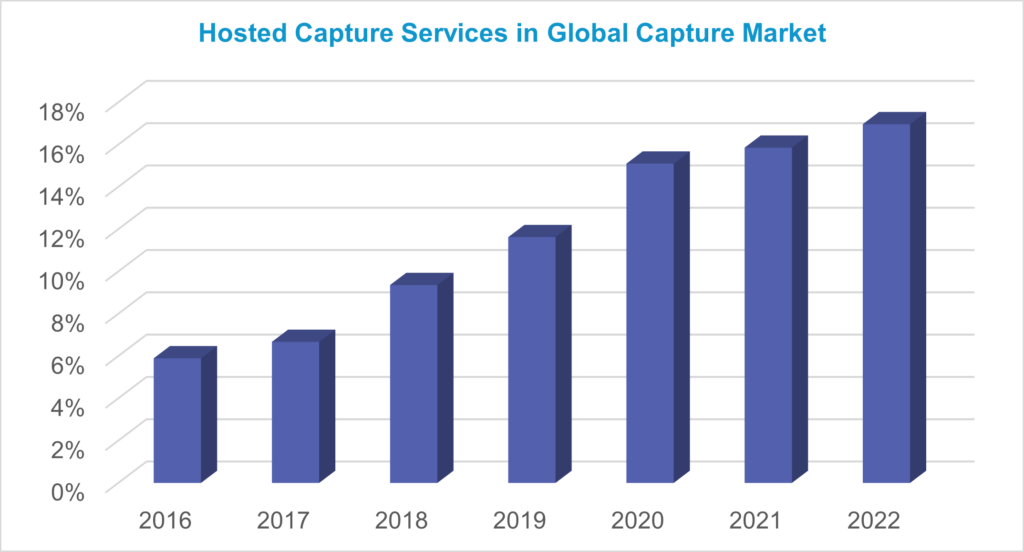 As noted in prediction #4, there is no doubt cloud Capture adoption is lagging behind some other markets because of concerns related to security in verticals like Financial Services and Government, as well as performance concerns in production-type applications. As these concerns are alleviated by improving cloud infrastructures, end user adoption will naturally increase.
In addition, there are several supply-side factors that will drive increased adoption:
Established market leaders moving functionality to the cloud: Market leaders like OpenText, Kofax, and IBM, still generate the large majority of their revenue from on-prem implementations, but they are gradually increasing their cloud revenue, often times through deploying Capture in hybrid environments.
We've seen a number of cloud-native start-ups: Most are still fairly small, but some, like Rossum and OCRolus, have been growing rapidly and begun to make an impact on our market metrics.
Hyperscalers' cloud services have been gaining traction: Offerings like Google Document AI, Amazon Textract, and Azure Computer Vision do not provide complete Capture solutions but are increasingly being utilized as alternatives to traditional OCR/ICR SDKs. We are seeing ISVs and end users alike leveraging these relatively low-cost services which has caused a shift in OEM revenues in the Capture market.
RPA vendors are moving rapidly to the cloud: Historically, almost all RPA applications were installed on-prem to enable them to connect with legacy applications more easily. Over the past couple years, as RPA vendors have broadened their automation targets, their technology has increasingly been moving into the cloud. This includes Capture for unstructured inputs.
6. Business Analysts Become the New Solution Architects – Capture Will Become a Part of Automation Centers Controlled by Business Analysts
What is the underlying business opportunity? The automation and digitalization of business processes has been and will continue to be a key priority in the private and public sector in 2022. The pandemic has exposed bottlenecks and shortcomings, which elevated this in the priority list of the C-level, if it was not there already. This continues to increase the demand for automation but is being hindered by a shortage of IT developers who have limited bandwidth to focus on innovative solutions as they are tied up maintaining legacy software applications. The end result has been delays in the planning and execution of key automation projects.
On the other side, business teams are eager to innovate and move forward with the implementation and refinement of solutions to digitize and automate mission critical business transactions.
This will drive a strong demand for Information Capture services with low-code capabilities in 2022. Business teams are looking for software solutions designed for citizen developers, who can easily implement and, in particular, update and adjust to address information-intensive processes. IT teams welcome Capture solutions that require considerably less effort to implement and update as well, as it allows them to focus on other critical and more complex processes.
Capture vendors recognize the market demand, but especially the offers of the established players are in early stages of maturity. Start-ups and Capture vendors who started developing platforms only in the past couple of years (often part of the Explorer and Disruptor categories) tend to have an advantage over established players (often part of the Competitor and Star categories). The graph below highlights the differences in low-code, no-code capabilities, which was one of the assessment criteria in the Infosource 2022 Vendor matrix (using a 7-point-scale).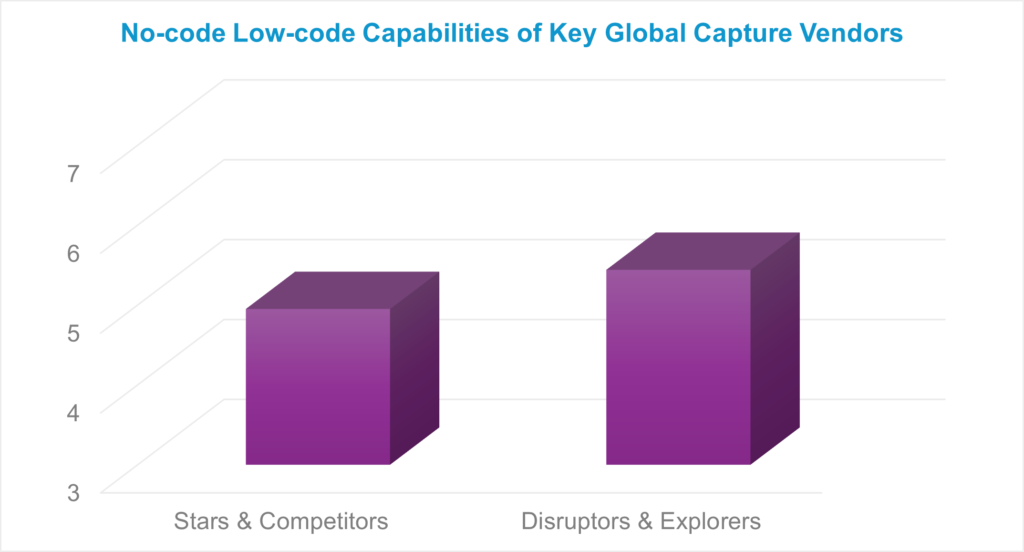 7. Capture Will Continue to Converge With RPA and BPM
Automating information-intensive transactional processes has never been higher on the priority level. Reducing or completely removing manual process steps or handovers between functions continues as an unresolved business need for a large number of organizations. End-to-end automation is a term that is overused and ranges significantly in scope from covering only the ingestion of documents, e.g., invoices, to the full process involving different departments, e.g., procure-to-pay and order-to-cash.
Infosource considers Intelligent Document & Information Capture as essential in this automation effort as the ingestion of unstructured business inputs still accounts for many bottlenecks requiring manual interventions. We see the value of Capture solutions increasing materially when they are closely integrated with enterprise systems (for augmenting and validating extracted data) and directly connected into transactional workflows. Capture vendors are responding to this increasing market demand by partnering with RPA and BPM vendors.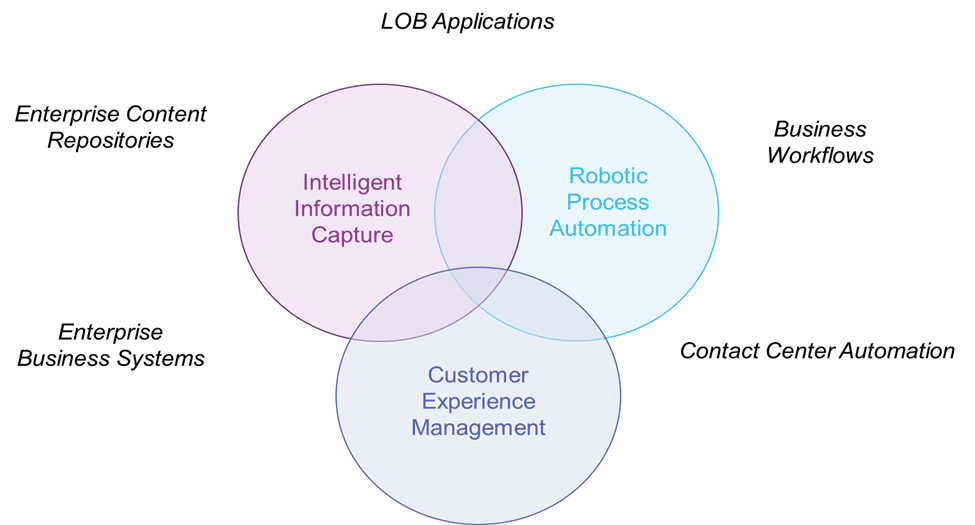 But there is another angle to this. RPA vendors are increasingly embracing business applications involving unstructured and semi-structured business inputs in addition to their core expertise in structured inputs. They often target use cases that are considered classic capture applications like invoice processing, customer onboarding, and claims processing, i.e., business transactions that rely on the ingestion of unstructured inputs combined with multiple decision and process steps. This type of RPA solution is often referred to as Intelligent Document Processing (IDP), a term that has been adopted by Capture vendors as well. During the pandemic we saw a continued strong market interest in Capture-related RPA solutions which grew by 58% in 2020, while the traditional Capture market was almost flat. For 2022 we predict over 25% growth for the Capture-related RPA market segment, which will boost the overall growth rate for the Capture market to a combined 9%.
The convergence of the RPA and the traditional Capture market also manifests itself in M&A activities where key Content Management vendors with Capture capabilities acquire mainly start-up RPA vendors. We expect these M&A activities to continue in 2022 while acquisitions realized last year get further integrated into the portfolios of the respective vendors.
8. The Digital Divide Is Widening – Closing Major Deficits in Digital Transformation Will Drive Capture Demand
The pandemic exposed businesses and organizations that were lagging in digital transformation and in many cases caused material business issues for them. Prior to the start of the pandemic, organizations that relied on manual process steps were somewhat disadvantaged regarding operational costs and potentially customer experience. But when the pandemic started, mission-critical business transactions that required an interaction by office staff resulted in serious bottlenecks for businesses and public organizations.
The processing of paper-based business inputs caused particular challenges during lock-down periods and even during partial work-from-home phases.
Information-intensive businesses that were fairly advanced in their digital transformations ,including the ingestion of unstructured business inputs, experienced significantly smaller impacts from the pandemic. They were able to shift their business operations to workforces who were fully or partly remote as well as end customers who interacted virtually.
As a result, organizations, who were already advanced in their transformations were able to conduct business successfully. In contrast, businesses who were lagging in their transformation experienced a strong impact from the pandemic, which in some cases further delayed investment plans.
There is also a widening gap in digital capabilities at the end customer level. Interacting with businesses and public organizations virtually shifted from an option to a necessity and became a hurdle for those with limited digital capabilities or who are socially disadvantaged.
The graphic below, published by the European Commission, highlights significant differences in digital capabilities between countries in the EU and exposes significant deficits of some nations, including those with larger GDPs.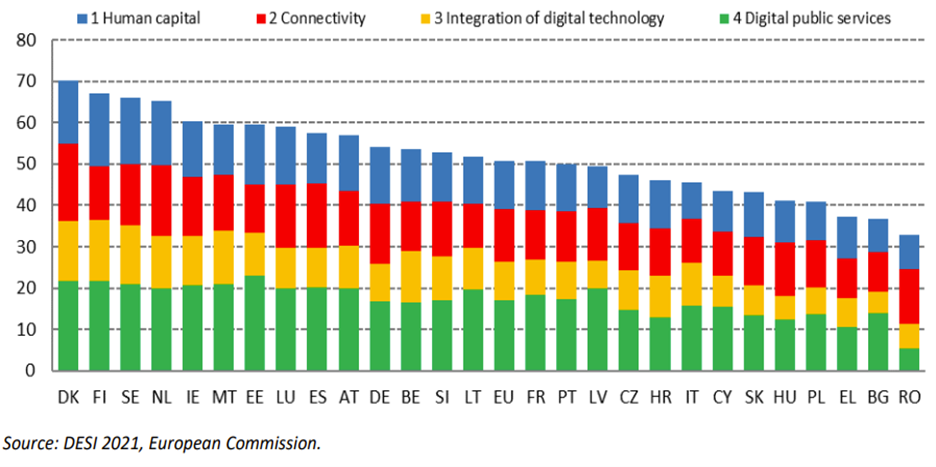 While most C-level decision makers were aligned with the importance of digitalization and automation of business transactions in general, it often competed with other business goals in the implementation phase. The pandemic surfaced issues caused by paper-based inputs that were processed manually, process bottlenecks caused by insufficient automation, systems that were not connected, and the list goes on. The capturing of unstructured business inputs and subsequent automation of information-intensive processes is a clear business priority especially for organizations that experienced serious disadvantages because of their delay in digital transformation. We therefore expect an increased demand for Capture solutions, in particular in sectors that are still lagging in digital transformation.
Petra Beck is a Senior Analyst in the Infosource Software division, where she is responsible for analyzing and forecasting the Intelligent Capture Software and Robotic Process Automation markets. Petra has over 25 years of experience in the Information Management market. Prior to joining Infosource Mrs. Beck held various global positions with Kodak Alaris leading Business Research, Strategic Planning as well as thought leadership functions. Petra has gathered experience working with several multi-national companies in Market Intelligence assignments.
For information about how to subscribe to Infosource services, contact Petra at [email protected].