On February 15th Fujitsu Computer Products of America announced the introduction of a new series of digital scanners, the fi-8000, incorporating new "Clear Image Capture" image processing. The technology is designed to reproduce truer colors than traditional CIS (Contact Image Sensor) camera technology, and eliminate color shift that can create fuzzy edges, and address different focal depth points created by crumpled or uneven documents, such as passports.
The first model introduced by FCPA is the fi-8170. It is being positioned as the next generation of Fujitsu's highly successful fi-7160 series. Introduced in 2013, the fi-7160 has been the top-selling model in Infosource's Departmental segment. There have been more than 1 million units sold in the US alone.
At a rated speed of 70 ppm, the fi-8170 is 10 ppm faster than the fi-7160 and features new feeder and stacker technology that allows users to scan a wider variety of document sizes. In addition, it includes an Ethernet port and Fujitsu's NX Manager software, which enables it to connect over a network to several software applications that have been integrated with NX Manager. This includes Fujitsu's cloud hosted NX Edge Experience Capture Service. The other major difference is that the fi-8170 uses CIS cameras, whereas the fi-7160 used CCD cameras.
According to Daisuke Kutsuwada, President & CEO, Fujitsu Computer Products of America, "This new family of scanners offers quality solutions for real-world pain points that organizations face every day. By truly understanding the needs of the marketplace, the fi-8000 series was developed with ground-breaking technology that will revolutionize organizational scanning productivity."
The fi-8170 is the first commercially available model in the series and will start shipping on March 14th, 2022 priced at $1,195.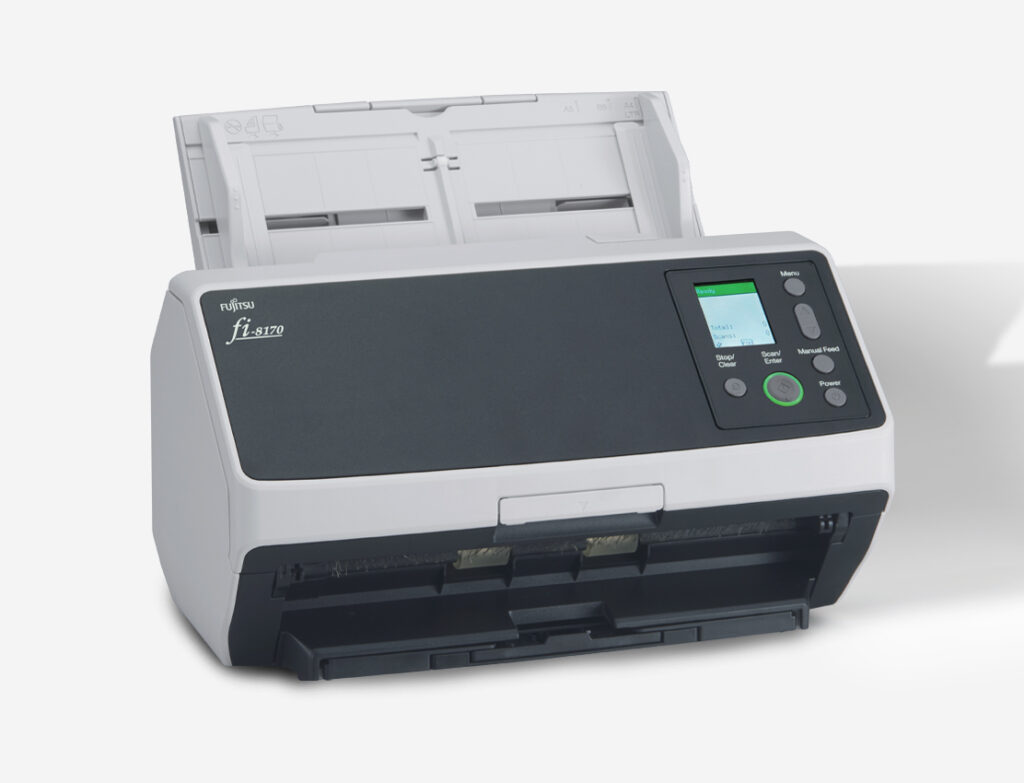 Infosource Insight
Fujitsu has a large install base of fi-7160 users whom it would like to accommodate when they are ready for scanner refreshes. With the fi-8170, Fujitsu has reduced its manufacturing costs, as well as the device footprint which enables the new model to remain price competitive and provide users a powerful scanner solution on their desktop. With the introduction of CIC, Fujitsu is attempting to replicate the functionality of the CCD cameras that its fi-7160 users are used to and that helped make it the best-selling departmental model in the market. End users also get added benefits like a network connectivity option and an improved feeder for more reliable paper handling. Fujitsu has made an effort to make the refresh experience seamless and is continuing to offer the fi-7160 for the time being as well.
For a more detailed discussion of market impact on your business and an in-depth dive into the new product please contact Infosource ([email protected]) for our technology briefs.
Barbara Richards ([email protected]) is Senior Analyst Hardware, Infosource. She has 20+ years' experience within the office technology market in product development, market research, and competitive analysis. She is responsible for document management scanners and MFP market market coverage at Infosource.