BY MARK NICHOLSON, REGIONAL MANAGER, INFOSOURCE
Introduction
Having closely followed the MFP/ copier and DMS scanner market now for over 30 years it has been fascinating to watch how both technology and design have evolved over the years.
I believe that there can be little argument that both the MFP and the scanner markets are in the mature stage of their product life cycles. In essence, those product features which were deemed to be 'cutting-edge' or 'market-leading' a number of years ago are now deemed the 'new product standard'.
In this research note, we will look at what product developments, in terms of features, are becoming prominent in a market where competition is fierce amongst the leading vendors.
Control Panel Design
When we look at the new models that were introduced over the past year (2022) in the Distributed sector, it is noticeable that colour touch screens are becoming a standard for devices above the entry level. I have taken the example of the Brother ADS-4900W (shown below) as being fairly representative of the new emerging design of DMS scanners that are coming to market.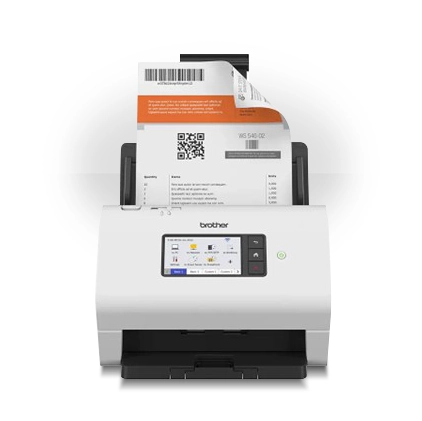 The most obvious feature of this £790 device is the centrally placed control panel featuring a relatively large (4.3") colour touch screen incorporating only three hard button controls.
In the past, the aesthetics of a product were not considered to be high on the priority list of manufacturers – these were office devices and functionality, and performance were the key defining features. However, the aesthetics of the Brother device do stand out when compared to the products of old. The clean design lines, neutral colours and small footprint not only stand out but they follow the current trend in MFP design.
Due to the burgeoning number of 'home workers' since COVID, office product aesthetics have become increasingly important to users.  They want their homes to remain as homes and not pseudo-offices.
Following the accepted trend in technology evolution, once a design feature has become a 'standard' then the norm of 'biggest is best' seems to hold true for some features.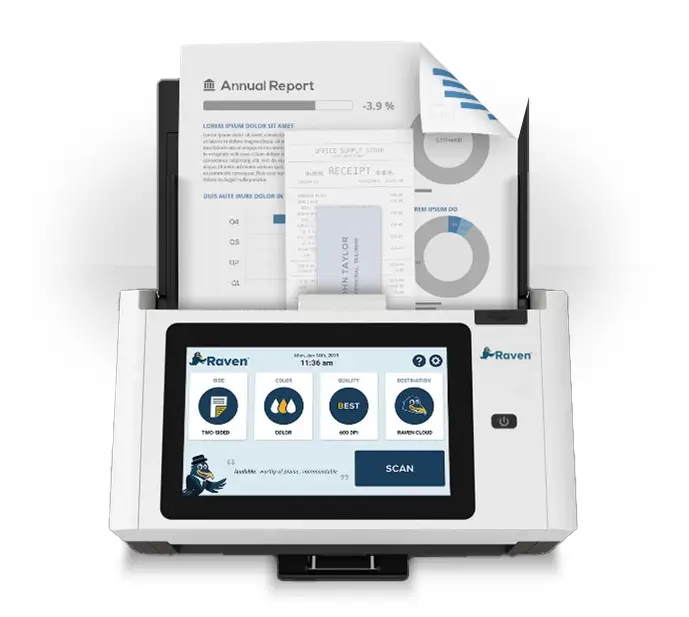 Currently a prime candidate for market leading control panel size in the Distributed scanner category is the Raven Scanner Pro, which features an 8" colour LCD and is priced at £570.
As with the Brother device, the clean design lines and neutral colours of the product perhaps bear more of a resemblance to consumer electronics as opposed to a device designed for the 'office'.
The question we must ask is why would users need such a control panel – the answer is provided by Raven – "A large touchscreen allows you to control every stage of your scanning workflow without using a computer, including scanning, editing and sending to destinations." Therefore, PC-less scanning is now a key differentiating factor for manufacturers in this competitive sector of the market.
Connectivity
Let's consider both hardware and software connectivity:
Hardware
The advent of WI-FI and its use, (a wireless network protocol based on the IEEE 802.11), was originally expected to grow significantly in the industry primarily because of the ease of use it offered in enabling the creation of local area networks (LANs) without incurring the expense of the installation of cables and wiring.
Infosource data shows that there was a consistent growth of WI-FI enabled devices over the period to 2021. During 2022, the graphic shows that shipments of WI-FI enabled devices in Europe declined by 11%, which contrasts sharply with the 60% growth in devices with direct wired Ethernet connections.
As we know, it is unwise to draw conclusions for future trends from a data set relating to one year, however security concerns relating to WI-FI and hacking are increasingly being voiced especially within corporate and government environments. Hardwired connections are seen as more secure!
Software
One interesting development that has still to be fully embraced by the software vendors, is the emergence of TWAIN DIRECT.
The TWAIN Working Group has spent several years building a royalty-free, open-source standard for software developers and manufacturers called TWAIN Direct, designed to enable driverless scanning over a network or via the cloud.
The key features of TWAIN DIRECT include:
Secure, driverless scanning, multi-platform support. Cutting the cord" between PC and document scanners, allowing the transfer of fully formed PDF files.
Provides a "develop once" solution for acquiring images from a scanner regardless of brand and model, eliminating the need for compatibility testing.
The emergence of TWAIN is an interesting development that allows for multi-platform support. This is especially interesting as key vendors in the industry such as Fujitsu, Kodak and Epson are leading the innovation with proprietary platforms – Fujitsu NX Edge Experience, Kodak Infuse Services and Epson Pro Services.
Conclusion
In this article, I have only focused on a few of the most key standout developments in Document Management Scanning (DMS), without touching on the innovations in capture software and how security issues are being addressed both at a hardware and software level.
The global DMS market remains robust and has maintained consistent growth from 2018 to 2022. Mature markets are characterised by intensified competition amongst manufacturers as the ability to attract new users becomes more difficult.
Undoubtedly, the new key innovations in the DMS market going forward will not be led by hardware, but rather by software.