The TWAIN Working Group (TWG) has certainly been busy over the past year so we thought it was time we caught up with the not-for-profit group for an update.
First, let's describe the group itself. TWG is a small group of influential member companies in the Capture industry including document scanner hardware manufacturers, capture software toolkit ISV's and now even some application software ISV's. Although a small group, they have industry-proven veterans and some incredibly talented people contributing to their efforts. The group is like The Little Engine That Could. In spite of being supported by only membership fees, TWG is managing to pull off quite a few interesting activities and events.

TWAIN Focus Groups – validating their charter and establishing a roadmap to help drive more adoption of imaging and capture technologies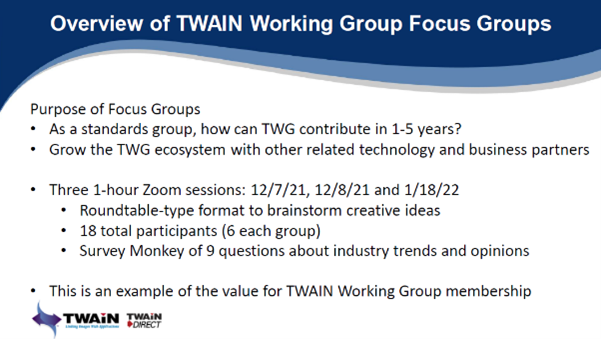 One of the key TWG update highlights that has set into motion several of their other activities, was three different sessions of 'TWAIN Working Group – Focus Groups' hosted via Zoom late last year and one session earlier this year. The purpose of the Focus Groups was for TWG to hear directly from various industry experts about how best the TWAIN Working Group, as a group developing industry standards specifically around image acquisition standards, can contribute strategic value to the overall imaging and capture markets.
The composition of each of the three Focus Group sessions was six non-TWG member experts from industry segments such as document scanners, multifunction peripherals, capture ISVs, big cloud infrastructure, RPA, application ISVs, and blockchain. The sessions themselves were an open roundtable group discussion-type format with no pre-planned topics. During the sessions, TWG shared the results of a 9-question survey that they had conducted in advance of the Focus Group sessions.
TWAIN Working Group – listening to feedback and taking action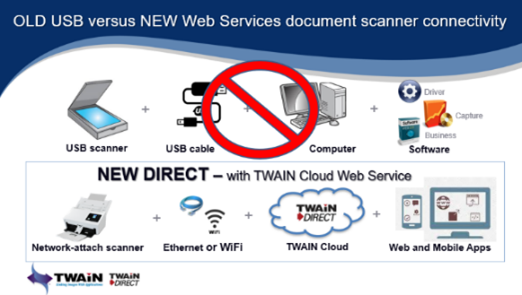 Based on feedback from the Focus Groups, TWG is taking action and delivering. For example, one of the survey questions was "Do you understand the charter of the TWAIN Working Group?" That's very bold of TWG to ask such a question because the answers could have not been too flattering, so I commend them for asking tough questions. For the record, TWG shared that a majority of answers to the question were "I somewhat understand the charter of the TWAIN Working Group."
TWAIN Working Group, once again, sponsors the Infosource Capture Conference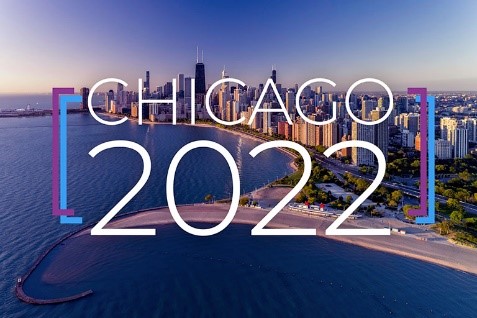 A "somewhat understanding" wasn't good enough for TWG member companies, so they took this as a call-to-action to better explain their charter. Some of the tangible things they have already done include a series of explainer videos on the topics of What's new in TWAIN 2.5, TWAIN Direct is Platform Agnostic, and TWAIN Direct Developers Kit.
Another activity that TWG has undertaken to continue to evangelize the TWAIN Direct project in particular is, once again, the TWAIN Working Group are sponsors of the Capture Conference 2022 at the Eaglewood Resort and Spa on September 7-8, 2022 in Chicago. They will have a booth demonstrating their technologies, interacting with the other attendees and also be providing an update presentation on significant highlights of the past year plus looking forward through the end of the year.
TWAIN Direct Developers Day 2022, November 8-9, 2022 in Tampa, Florida
Finally, as if that wasn't enough, TWG has taken on an ambitious project that they are considering hosting on November 8-9, 2022 in Tampa, Florida called TWAIN Direct Developers Day 2022. They recently hosted a webinar as a sneak peek of the event and the recording can be viewed here: https://vimeo.com/720666373.
TWG is promoting TWAIN Direct Developers Day 2022 as "get a functional TWAIN Direct scanning application in one day". This event will be a hybrid on-premise plus Zoom event for the attendees. To accelerate the development process, attendees will get a TWAIN Direct Cloud sandbox account for 30days prior to the event and 60days after the event so they can continue to develop their TWAIN Direct application. Additionally, functional source code and a full staff of TWAIN Direct expert technical resources will be available to help assist attendees to quick-build a TWAIN Direct scanning application in one day.
Overall, after years of pushing their TWAIN Direct project as a strategically important technology for the future of edge capture up hill, this Little Engine That Could (a.k.a. the TWAIN Working Group) is finding some success in getting more support of the project.
I recently conducted a wide-ranging questions and answers session with Kevin Neal, TWG Marketing Chair, where we discussed many technical, marketing and events related topics. You can view the full video here:
TWG is certainly enthusiastic about all of their updates and they recommended that it's time for everyone to get on the TWAIN Train. All Aboard!