Globally end customer organisations invested over 5.5 Billion US$ into Capture and IDP solutions in 2021.
The growth rates for Capture & IDP software and solutions accelerated in 2021 after a slight slowdown caused by the pandemic in 2020. The increased demand for Capture & IDP solutions and services last year was driven by increasing prioritisation for the automation of business transactions. Business use cases that involve unstructured inputs are increasingly addressed by RPA vendors, which is leading to a convergence of the traditional Capture and the Capture-related part of the RPA market.
The demand for Capture & IDP solutions in 2021 was particularly strong in North America, where sales grew in double digits, including some projects that had been delayed due to the pandemic in 2020.
We saw a continued strong demand for Case Management use cases as part of the digitalisation of end customer facing processes. Sales of Capture & Capture-related RPA solutions into Accounting use cases were particularly strong in 2021.
In the 5-year forecast period, Infosource expects the Capture & IDP market to grow to almost 8.5 Billion US$ in 2026.
We expect strong demand in established economies that is increasingly fulfilled with solutions that involve RPA and AI technologies. The automation of manual process steps that are critical to process customer facing business transactions is increasing in importance due to a shortage of skilled workers and unfavorable cost structures driven by growing inflation.
CAPTURE & IDP MARKET FRAMEWORK
Infosource defines the market scope of Capture and IDP Software as solutions and services used to process business inputs which involve unstructured and semi-structured documents and other input types. Business inputs have increasingly shifted from paper to a variety of digital sources arriving via a broad range of communication channels including email, fax, smart devices, and social media. Inputs can include not only documents and other text-based sources, but also voice, photos, videos, and IoT channels.
All inputs are interpreted to understand the content, and where and why it is needed. Data is extracted, validated, and augmented to create the required information for a business process related to an Accounting Workflow, Case Management type applications, to comply with Records Management requirements or to fulfill analytics or discovery needs. Our market assessment includes Capture & IDP solutions ranging from point solutions for document digitisation, to capturing inputs for compliance, to the end-to-end automation of business processes.
DEVELOPMENT OF THE CAPTURE & IDP MARKET DEVELOPMENT DURING THE PANDEMIC
Pre-pandemic, the global Capture & IDP market was growing at a double-digit growth rate. Capture-related RPA solutions boosted market growth starting in 2018 and continue to have an increasing impact as the visual below highlights. The demand remained strong throughout the pandemic for the combined Capture and Capture-related RPA market. This was driven by a combination of demand for traditional Capture solutions, increasing interest in solutions offered by RPA vendors and solutions offered by AI start-ups. After a brief slow-down of market growth rates in 2020, the demand for traditional Capture solutions increased driven by automation of Accounting and Case Management processes.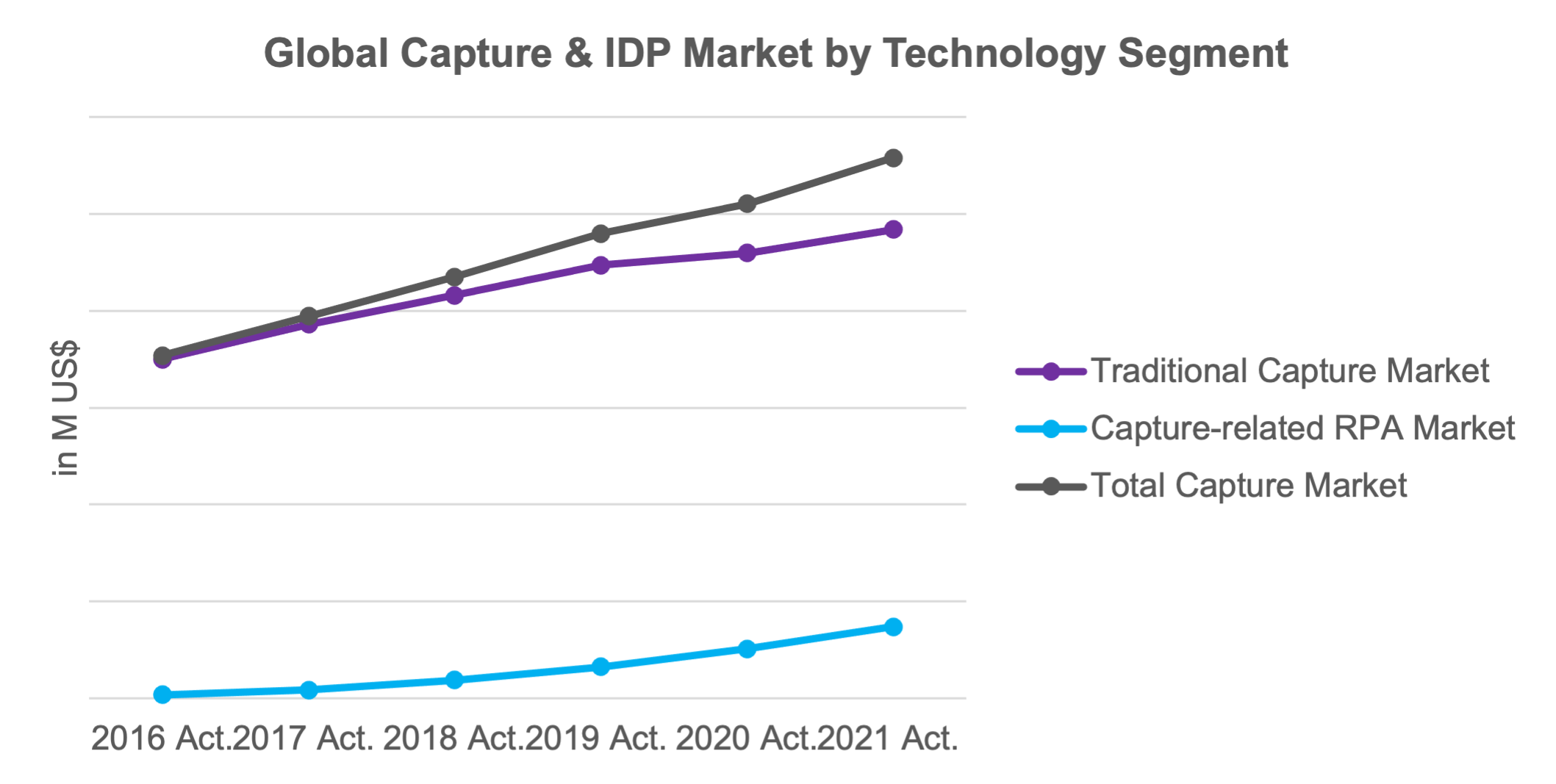 CAPTURE & IDP DEMAND BY GEOGRAPHY
The North American market is the most advanced in the automation of business processes that involve unstructured inputs and represents the largest geography in 2021. The demand in the region increased over-proportionally last year as organisations picked up projects that were put on hold in 2020 and accelerated their digital transformation efforts.


Demand in EMEA increased as well, despite a slowdown in the Eastern European sub-region, which was compensated for by growth in Western Europe and the Middle East.


Capture investments in Asia, and in particular in Japan, which is by far the largest Asian Capture market, stalled for the global traditional Capture vendors in 2021 and shifted to local players.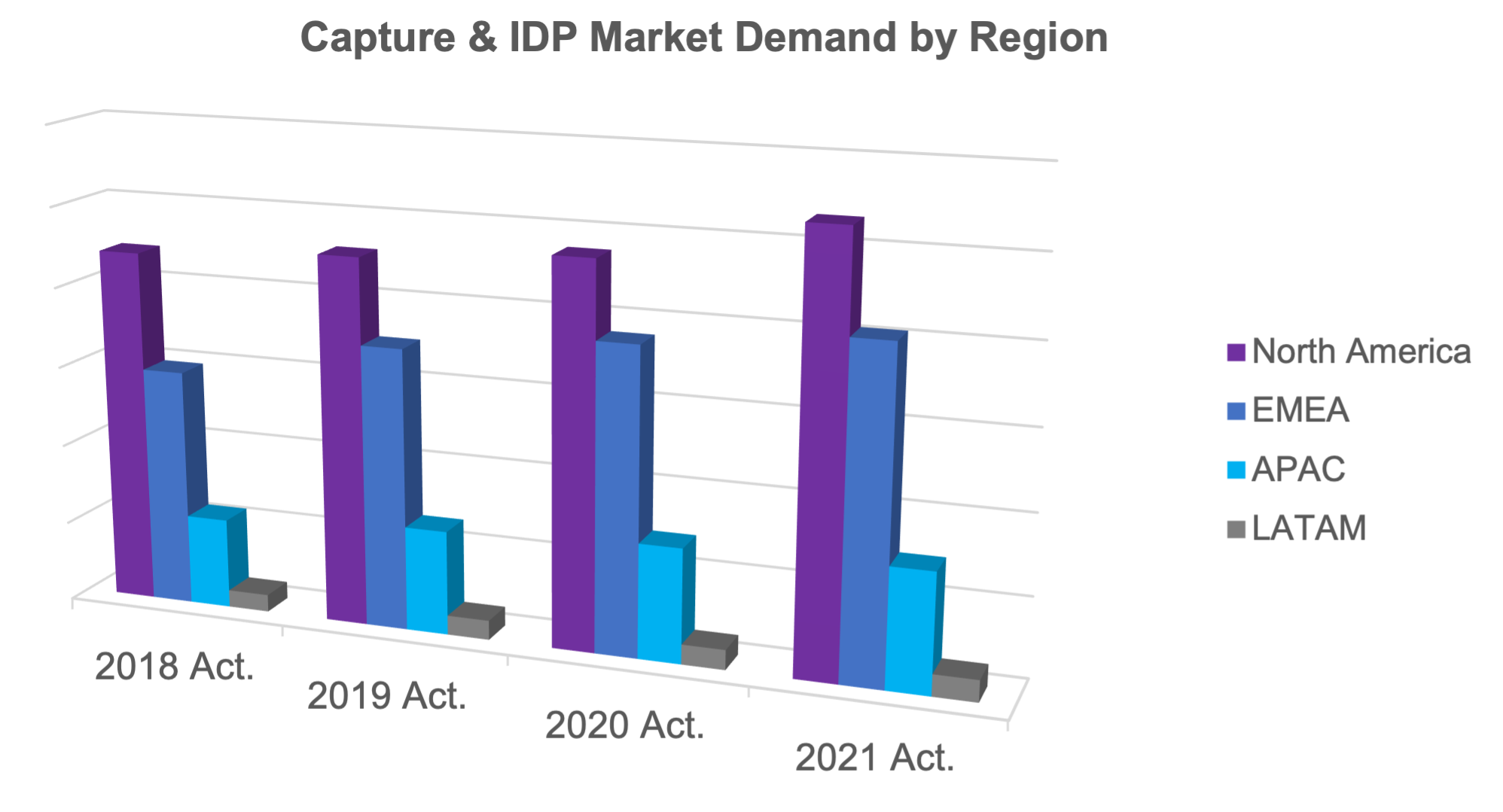 Infosource analyses the use cases related to the primary reason for Capture & IDP, keeping in mind that there continue to be secondary use cases of high importance, like Records Management for compliance reasons. Our analysis highlights continued strong growth in Case Management type solutions, which include use cases like onboarding and claims management, i.e., the automation of transactional business processes which relate to the processing of a "case." The demand for Case Management solutions, now the largest use case group, was slightly higher compared to Accounting related use cases, with Invoice Processing accounting for the largest application. We see a growing demand for Capture Software in the automation of broader Accounting use cases e.g., Procure to Pay.


The Capture element of the RPA market is increasingly converging with the Traditional Capture Software market as it targets similar business applications, in particular Case Management type use cases and Invoice Processing.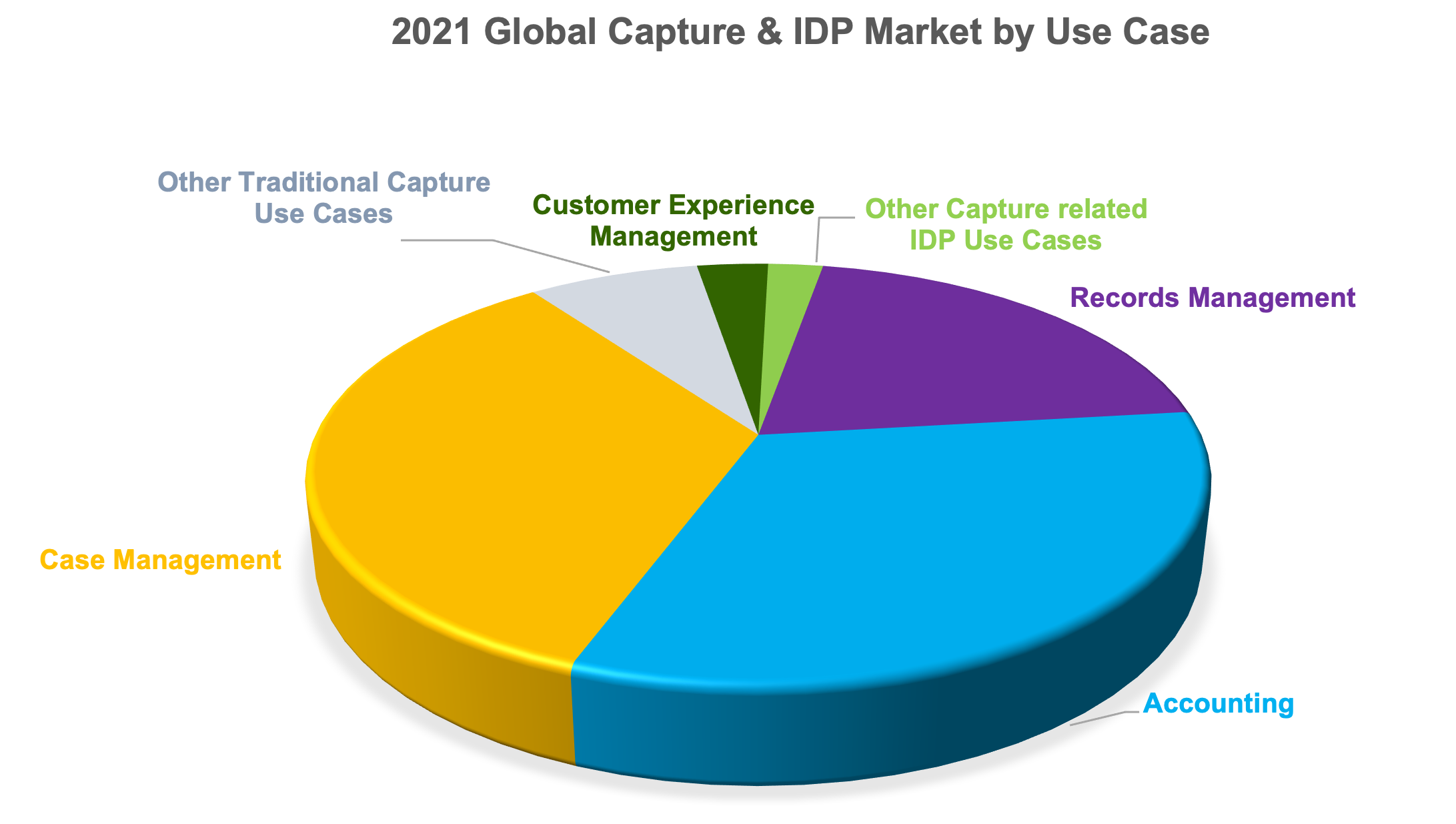 The largest verticals in the Capture & IDP markets are the Finance and Public Sectors. Demand for solutions to automate processes in the Finance Segment, in which we include BFSI and Insurance, grew strongly in 2021. In particular in the Banking vertical, RPA solutions have had good success in replacing mundane process steps and have been a driver of the growth.


The Public Sector is in an earlier state of digital transformation compared to the private sector, which became apparent during the pandemic. In 2021 Federal / National Government investments continued to stall based on their focus on compensation for the pandemic. State and Local government investments grew at a moderate pace in 2021, after a peak investment year 2020.


The Manufacturing sector recovered strongly in 2021. The recovering demand in the private and public sectors coupled with supply chain decentralisation and growth in e-commerce caused a strong increase in Capture & IDP demand from the Logistics and Transportation sector. The demand from the Retail sector declined for the second year in a row as this sector was struggling to transform itself.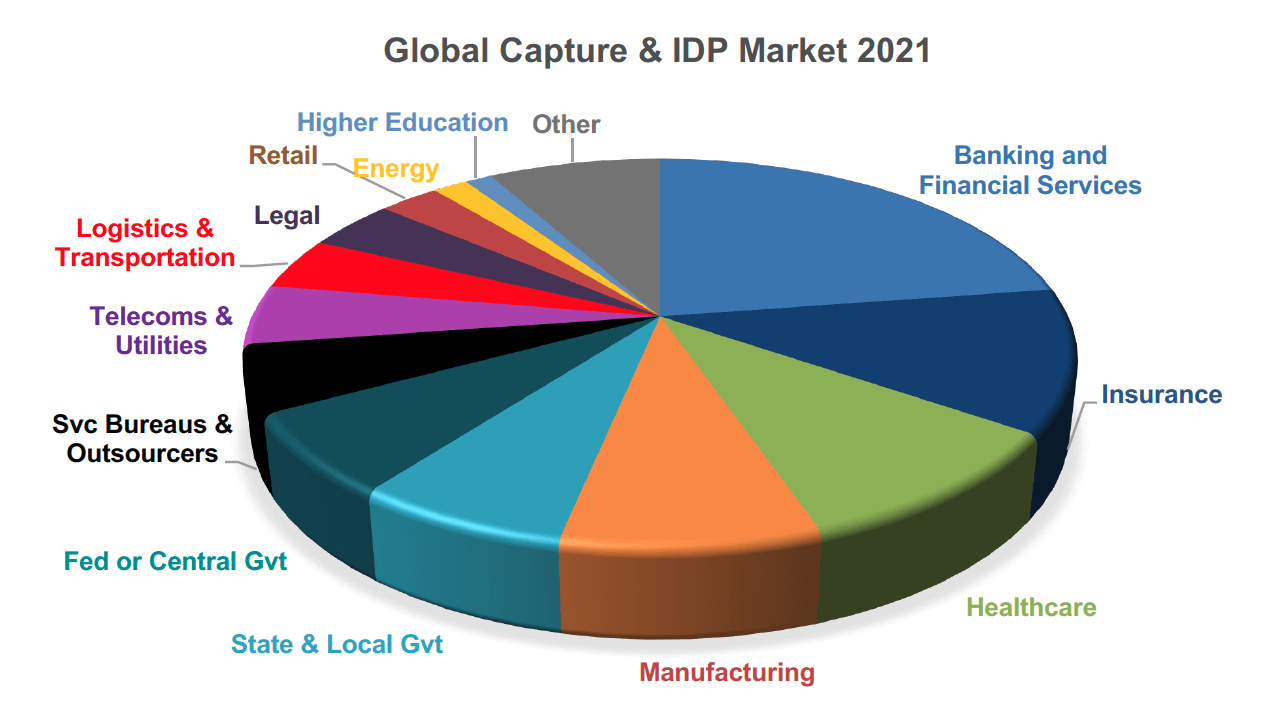 Business inputs, in particular those required to execute transactions, continue to shift from paper-based documents to digital documents and other digital inputs. These input types correlate strongly with expanding input channels, a trend that has accelerated during the pandemic.


Infosource tracks the market value for input sources in the Traditional Capture market. This metric reflects inputs from Capture Software vendors related to input sources in a calendar year. The pandemic accelerated the market dynamics visible in prior years, in particular the decline of software sales associated with input sources used to digitise analog documents (Scanners and MFPs) and the increase of digital inputs (i.e., email and electronic sourced inputs) caused by growing virtual B2C and B2B interactions. The increasing input volumes submitted through mobile devices also reflect the growing preference by end customers to communicate and submit documentation through their smart phones. Faxes increased slightly, driven by specific needs for document exchanges during the pandemic in particular in the Public Sector.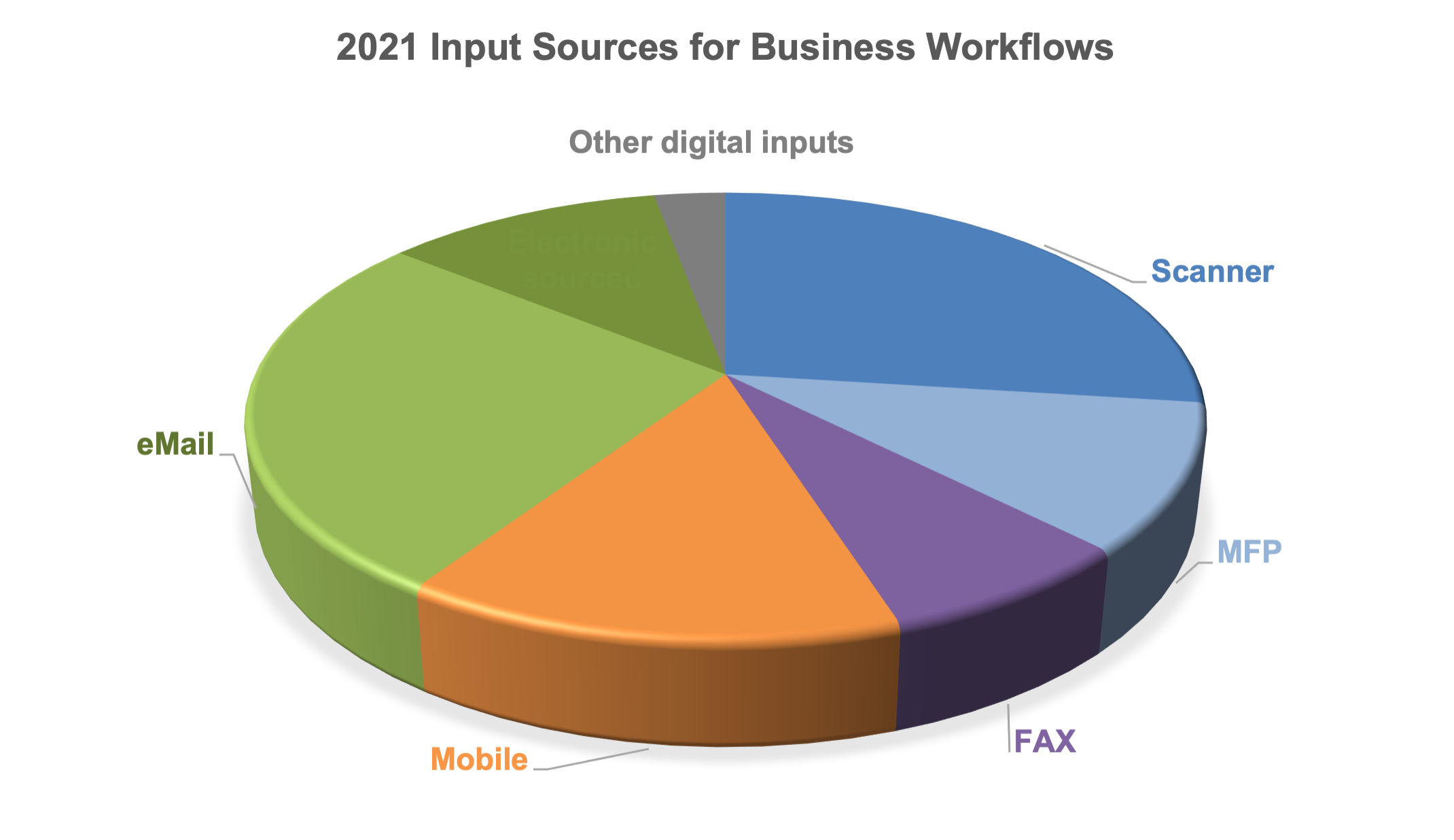 CAPTURE SOFTWARE FORECAST
In our 5-year forecast period Infosource expects the Capture & IDP market to grow to just under 8.5 Billion US$ in 2026. We analyse influencing factors and document assumptions, which then result in a forecast range, with the combination of optimistic dynamics being the foundation for the high end, and a combination of potential negative impacts driving the conservative scenario.
There is significant potential for the Capture & IDP market in the next decade. Infosource forecasts a growing demand for digitalisation that includes a strong push to digitise paper-based business inputs in the short term while organisations accelerate their transformation to digital processes. The shortage of knowledge workers involved in the processing of business transactions, the increased level of Customer Experience related expectations and growing cost pressures increase and accelerate the need for digital transformation. We expect businesses and public organisations to increase their investments to digitalise and automate customer facing solutions and increase operational efficiencies.
Infosource forecasts an increased demand for automating transactional processes which include all process steps, leading to fully automated end-to-end processes spanning across departments, e.g., involving the purchasing workflow in Procure-to-Pay solutions.
This growing demand creates a continued strong potential for input management solutions that integrate AI and RPA technology to reduce process steps and offer more agility in changing processes.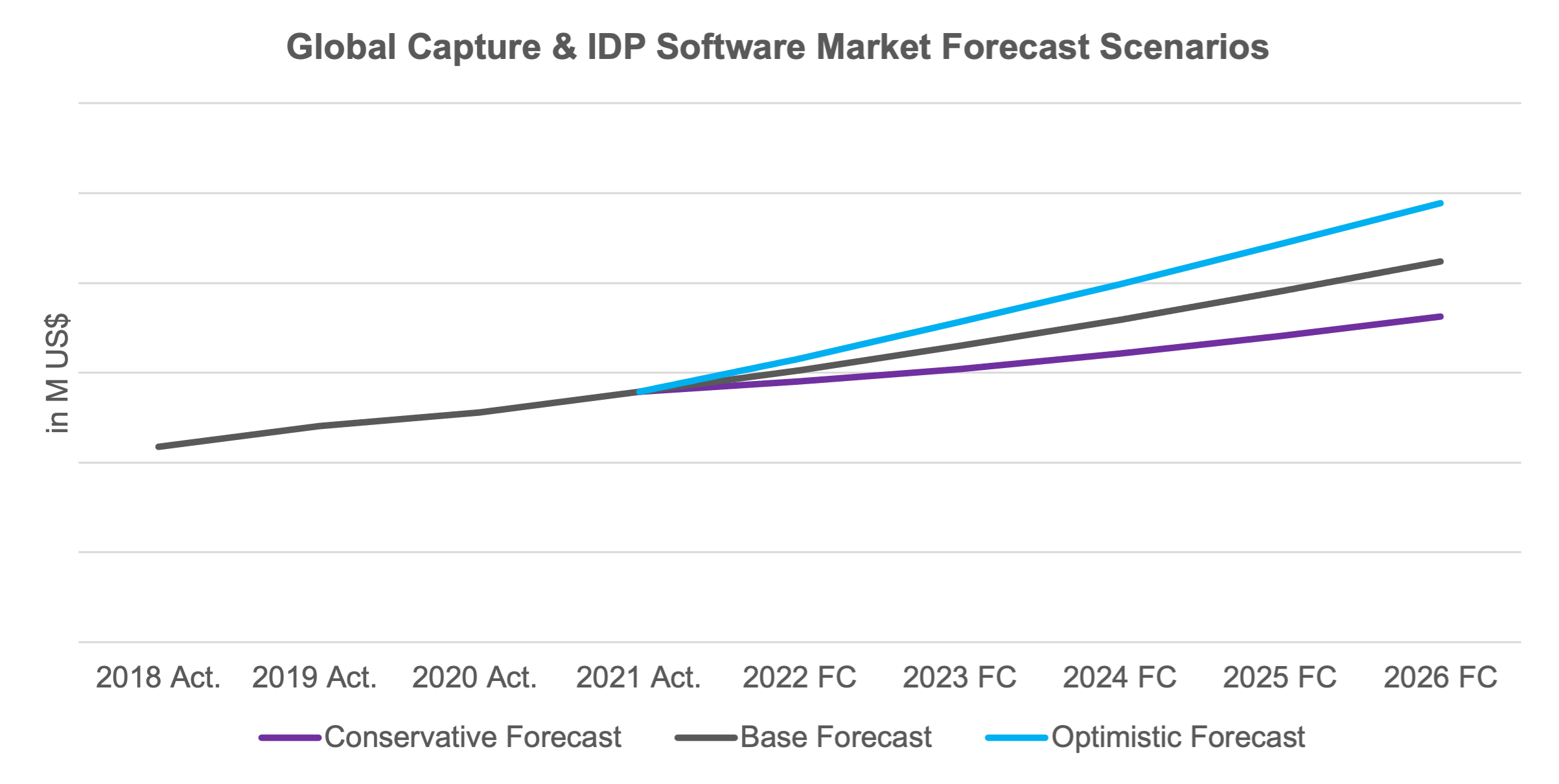 Infosource also forecasts key market metrics for the 5-year horizon like regional markets, use cases, verticals, input types and revenue elements.
Infosource Capture Software Division
Infosource is the leading analyst firm for Intelligent Capture and IDP Software market analysis and consulting with more than 20 years of experience in this field.
This blog post is an extract of the 2021–22 Global Capture & IDP Software Market report, one of the elements of the Infosource Capture Software analyst services. It provides an in-depth assessment of the Capture and Capture-related RPA software and solutions market with actuals through 2021 and forecasts through 2026.
Please contact Petra Beck at [email protected] or +491704567908 to discuss how the Infosource Capture & IDP Services can help you grow your business.