Globally end customer organisations invested over 6 Billion US$ into Capture and IDP solutions in 2021.
The growth rates for Capture & IDP software and solutions returned to a double-digit growth, close to pre-pandemic growth rates in 2022.
The demand for the automation of transactional business processes continued to increase, fueled by the shortage in skilled staff and increasing customer experience expectations following the pandemic.
RPA vendors continue to strengthen their IDP capabilities as they expand into the automation of transactional processes that involve semi-structured and unstructured business inputs.
The demand for Capture & IDP solutions in 2022 slowed slightly in North America following a particularly strong year. The demand in EMEA calculated in US$ followed a stable double digit growth rate. Asia saw a strong recovery of market demand in 2022 while the demand in Latin America increased strongly but remains at a low level.
Infosource expects an accelerated growth in the Capture & IDP market with solid double-digit expansion globally for the next five years exceeding pre-pandemic levels. AI-based solutions and subscription-based services will lower the barrier to entry for process automation and meet requirements for improved customer experience and employee satisfaction.
We expect strong demand in established economies that is increasingly fulfilled with solutions that involve RPA and AI technologies. The automation of manual process steps that are critical to process customer facing business transactions is increasing in importance due to a shortage of skilled workers and unfavorable cost structures driven by growing inflation.
CAPTURE & IDP MARKET FRAMEWORK
Infosource defines the market scope of Capture and IDP Software as solutions and services used to process business inputs which involve unstructured and semi-structured documents and other input types. Business inputs have increasingly shifted from paper to a variety of digital sources arriving via a broad range of communication channels including email, fax, smart devices, and social media. Inputs can include not only documents and other text-based sources, but also voice, photos, videos, and IoT channels. All inputs are interpreted to understand the content, and where and why it is needed. Data is extracted, validated, and augmented to create the required information for a business process related to an Accounting Workflow, Case Management type applications, to comply with Records Management requirements or to fulfill analytics or discovery needs. Our market assessment includes Capture & IDP solutions ranging from point solutions for document digitisation, to capturing inputs for compliance, to the end-to-end automation of business processes.
HIGHLIGHTS OF THE CAPTURE & IDP MARKET DEVELOPMENT IN 2022
As the global market recovers from the COVID-19 pandemic, the global Capture & IDP market has returned to a double-digit growth rate in 2022. This shows a further recovery of the market and a return to pre-pandemic growth rates.
The interest in task and process automation continued to drive growth in the RPA market. As RPA solutions expand into more comprehensive solutions for the automation of business processes, often involving unstructured business inputs, which translates in a growing market value of IDP solutions that are sold as an element or in conjunction with RPA solutions. The strong growth rates in this market segment continue to boost the market growth, together with the strong growth of AI-native vendors, many of them still in start-up stage.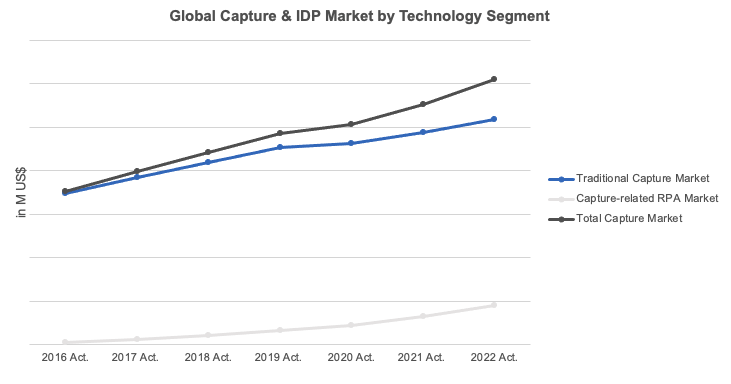 CAPTURE & IDP DEMAND BY GEOGRAPHY
The double-digit growth of the EMEA market in 2022 is particularly remarkable when considering the fx impact in our US$ based reporting. Demand in North America increased by high single digits in 2022 after a particularly strong 2021. Sales in Asia recovered after two difficult years caused by the pandemic. The Latin American region continued its strong growth, however still at a low absolute level.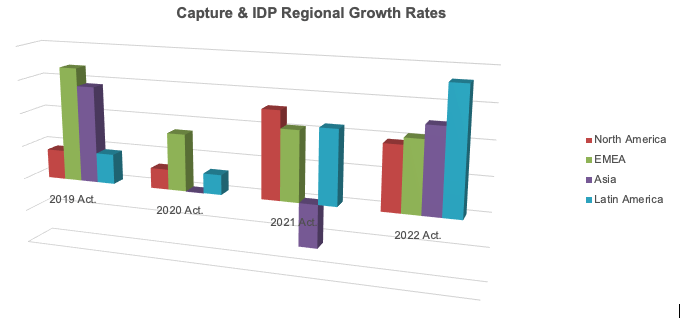 Infosource analyses the use cases related to the primary reason for Capture & IDP, keeping in mind that there continue to be secondary use cases of high importance, like Records Management for compliance reasons. In our analysis of use cases, where new Capture & IDP solutions are deployed, Case Management type use cases (e.g., onboarding and claims management) continue to experience the strongest demand and growth rates.
The demand for Case Management solutions, now the largest use case group, was slightly higher compared to Accounting related use cases, with Invoice Processing accounting for the largest application. We see a growing demand for Capture Software in the automation of broader Accounting use cases e.g., Procure to Pay.
Accounting applications (with invoice processing still the most prominent use case) grew at a double-digit rate in 2022, slightly less than in 2021. Records Management type use cases, which also include the growing area of analytics, only increased marginally YOY, slightly recovering after the pandemic years.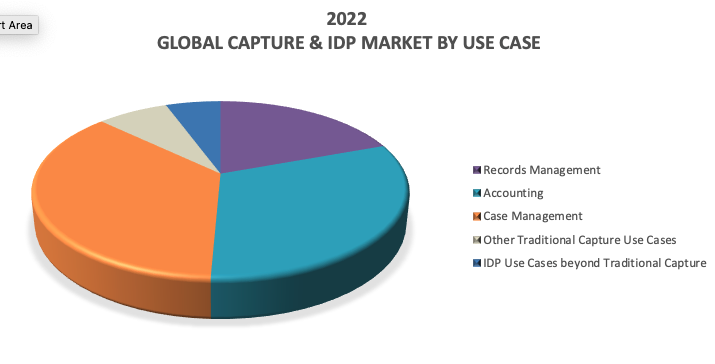 In the Global Capture & IDP market, the Finance Segment (including Banking and Financial Services combined with Insurance) continued to represent the largest industry sector. Sales into the Banking vertical increased slightly above the global market average.
The Public Sector, which consists of Federal, State and Local Government (incl. grade schools), is the second largest sector; it continues to lag behind the private sector despite various government modernization programs and directives like the M-19-21 initiative in the United States and the EU Digital Europe Programme efforts. Investments by State and Local Government agencies continued at a fairly low growth rate globally.
The Healthcare and Manufacturing segments reflect major industry sectors related to demand for Capture & IDP Solutions in 2022. Demand in the Healthcare sector recovered in 2022 after struggling with different priorities i.e., a focus on immediate requirements caused by the pandemic in prior years. The Manufacturing industry further increased its growth in 2022 seeking to drive efficiencies.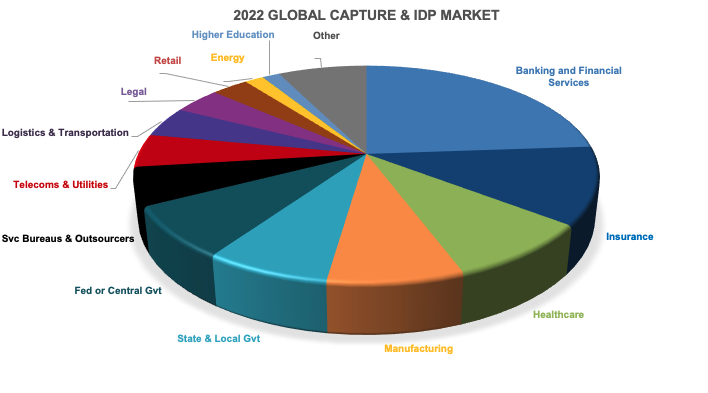 The pandemic has accelerated the shift of business interactions from face-to-face to virtual and from analog to digital. This had a direct impact on the inputs for business transactions, like the submission of invoices, documentation for a loan, request for public services, etc. In 2022, business and private life settled back into a "new normal", characterized by hybrid environments, like work-from-home arrangements and new habits of virtual interactions.
In the input types reported by the traditional Capture Software vendors around the globe, this trend is clearly visible in the decline of paper-based inputs in 2020 and 2021, and the resulting increase of digital document types. In 2022 we saw a slight recovery of the paper-based inputs compared to 2021
There is a similar trend related to the specific input sources supported by Capture Software installations in a given year. Scanners and MFPs as input sources stabilized during the pandemic, continuing into 2022. The use of smart devices to capture business inputs continued to increase supporting a virtual or partly virtual workforce, as well as consumer onboarding applications.
Emails including attachments continue to grow and became the largest input source in 2022. We expect this and other digital input channels to become even more prominent in future. Electronic data also continues to increase, driven by the increasing adoption of e-invoicing mandates, digital wallets, etc.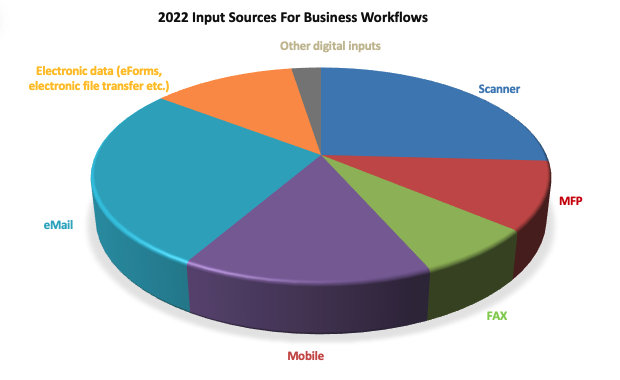 CAPTURE SOFTWARE FORECAST
Based on a comprehensive analysis of market drivers and inhibitors, we see a significant potential for the Capture and IDP market in the forecast horizon and beyond. We predict increasing demand for the automation of business processes as well as the increased use of business data to predict demand changes and personalize offers.
When we analyze the market development following our Capture maturity model, we expect material changes both from a demand perspective as well as related to the vendor ecosystem. From an end customer decision maker perspective, we predict an acceleration of demand caused by lower barriers for adoption. These are caused by the increasing availability of solutions that are cloud based or subscription based, solutions with low code or no code capabilities and AI technologies. The vendor ecosystem will shift from Basic Capture solutions to Intelligent solutions that are increasingly part of end-to-end process automation solutions.
When we apply this expected maturity shift to the TAM (Target Addressable Market) of our Capture & IDP vendors, we predict an accelerated market growth in the 2022-2027 forecast period.
We expect an increasing demand for Capture & IDP solutions with advanced AI capabilities, i.e., AI-native solutions or imaging-based Capture solutions with significant AI-based capabilities and solutions with advanced automation capabilities.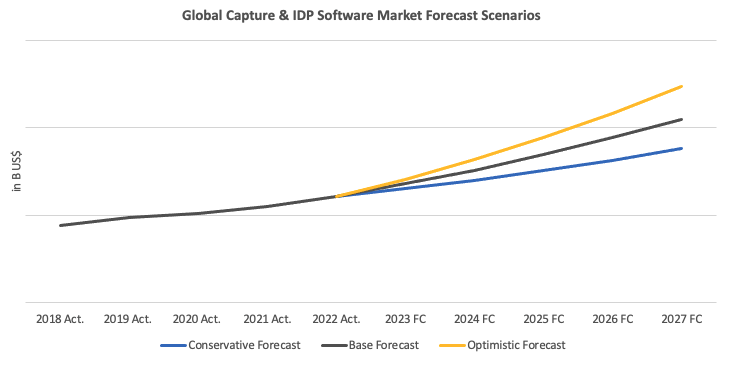 INFOSOURCE CAPTURE SOFTWARE DIVISION
Infosource is the leading analyst firm for Intelligent Capture and IDP Software market analysis and consulting with more than 20 years of experience in this field.
This blog post is an extract of the 2022–23 Global Capture & IDP Software Market report, one of the elements of the Infosource Capture Software analyst services. It provides an in-depth assessment of the Capture and IDP software and solutions market with actuals through 2022 and forecasts through 2027.
Please contact Petra Beck at [email protected] or +491704567908 to discuss how the Infosource Capture & IDP Services can help you grow your business.